Results: September 2016 Licensure Exam for Teachers
MANILA, Philippines – The Professional Regulation Commission (PRC) and the Board for Professional Teachers (BPT) announces that 23,378 elementary teachers out of 77,466 examinees (30.18%) and 31,334 secondary teachers out of 92,754 examinees (33.78%) successfully passed the Licensure Examination for Teachers (L.E.T.) given last September 25, 2016 in Hong Kong and 25 testing centers all over the Philippines. It is further announced that of the 23,378 elementary teacher passers, 21,896 are first timers and 1,482 are repeaters. For the secondary teachers, 28,957 passers are first timers and 2,377 are repeaters.
The Board for Professional Teachers is composed of Dr. Rosita L. Navarro, Chairman; Dr. Paz I. Lucido, Vice Chairman; Dr. Paraluman R. Giron and Dr. Nora M. Uy, Members.
The results of examination with respect to four (4) examinees were withheld pending final determination of their liabilities under the rules and regulations governing licensure examination.
Here are the top 10 performing schools and the students who garnered the 10 highest places in the September 2016 licensure exam for teachers:
TOP SCHOOLS
Top by Rappler Philippines on Scribd
ELEMENTARY LEVEL
Elem 0916 by Rappler Philippines on Scribd
HIGH SCHOOL LEVEL
Sec 0916 by Rappler Philippines on Scribd
Registration for the issuance of Professional Identification Card (ID) and Certificate of Registration will be on December 5 to 23, 2016. The requirements for the issuance of Certificate of Registration and Professional Identification Card (ID) are the following:
Notice of Admission
Duly accomplished Oath Form or Panunumpa ng Propesyonal;
2 pieces passport size pictures (colored with white background and complete nametag);
2 sets of documentary stamps
Successful examinees should personally register and sign in the Roster of Registered Professionals.
You may also register at the PRC Service Centers in Robinsons Place Manila, Robinsons Galleria and in Clark Skills Training Center (formerly Polytechnic College, Clark, Pampanga).
The registration of successful examinees from Manila is scheduled (in alphabetical order) as follows: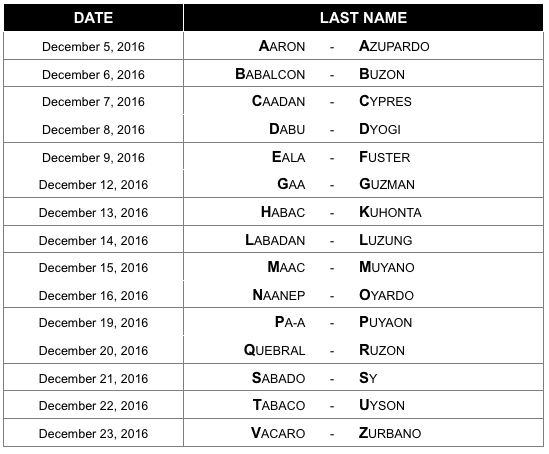 The dates and venues for the oathtaking ceremonies of the new successful examinees in the said examination will be announced later.
SOURCE: Rappler Philippines
A Public School Teacher who loves to make some IT Stuff such as blog that can help to provide information to all teachers around the Globe.
Comments
comments